PUBLICATIONS RESULTING FROM NCANDA DATA
2023
2022
2021
2020
2019
2018
2017
2016
2015
2014
IN THE MEDIA
1. What you need to know about Dry January (January 14, 2022). Pittwire.
2. The Risk of depression in emerging adults suddenly tripled during COVID-19, and young women are particularly vulnerable (Nov 18, 2021). Forbes Magazine.
3. Sleep characteristics predict cannabis use, binge drinking in teens and young adults (June 8, 2021). SLEEP Meeting News.
4. Heavy drinking by teens may affect white matter integrity (Jan 7, 2021). Medscape.
5. Heavy alcohol consumption produces 'deleterious' effects on adolescents' white matter (Jan 4, 2021). Healio.
6. Youth and Addiction: Can there be freedom of will? --Degrees of Freedom (May 4, 2015). UCSD TV.
7. Congressional briefing on substance use and brain development draws large crowd (2014, October). APA Science Policy News.
PRESENTATIONS RESULTING FROM NCANDA DATA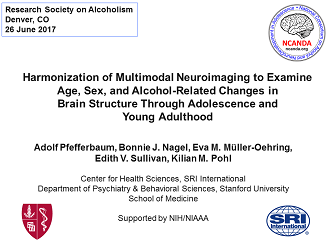 Harmonization of Multimodal Neuroimaging to Examine Age, Sex, and Alcohol-Related Changes in Brain Structure Through Adolescence and Young Adulthood
RSA 2017
June 26, 2017
Denver, CO
Adolf Pfefferbaum
SRI International & Stanford University
» View Full Presentation (PDF)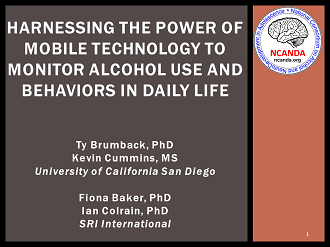 Harnessing the Power of Mobile Technology to Monitor Alcohol Use and Behaviors in Daily Life
RSA 2017
June 26, 2017
Denver, CO
Ty Brumback
UC San Diego
» View Full Presentation (PDF)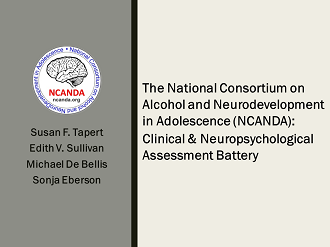 The National Consortium on Alcohol and Neurodevelopment in Adolescence (NCANDA): Clinical & Neuropsychological Assessment Battery
RSA 2017
June 26, 2017
Denver, CO
Susan F. Tapert
UC San Diego
» View Full Presentation (PDF)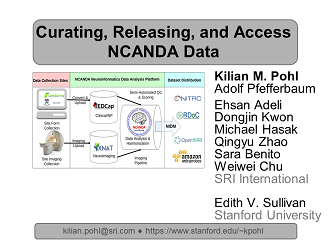 Curating, Releasing, and Access NCANDA Data
RSA 2017
June 26, 2017
Denver, CO
Killian M. Pohl
SRI International
» View Full Presentation (PDF)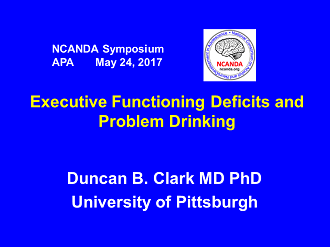 Executive Functioning Deficits and Problem Drinking
APA 2017
May 24, 2017
San Diego, CA
Duncan B. Clark
University of Pittsburgh
» View Full Presentation (PDF)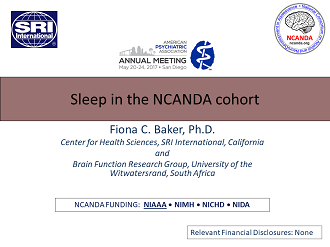 Sleep in the NCANDA Cohort
APA 2017
May 24, 2017
San Diego, CA
Fiona C. Baker
SRI International & University of the Witwatersrand, South Africa
» View Full Presentation (PDF)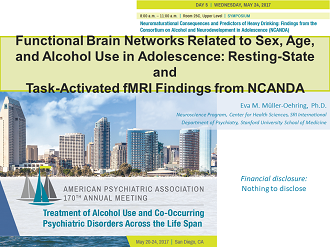 Functional Brain Networks Related to Sex, Age, and Alcohol Use in Adolescence: Resting-State and Task-Activated fMRI Findings from NCANDA
APA 2017
May 24, 2017
San Diego, CA
Eva M. Muller-Oehring
SRI International & Stanford University
» View Full Presentation (PDF)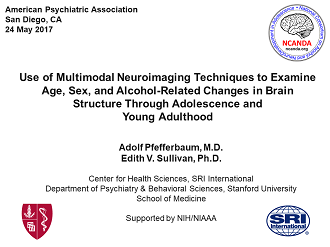 Use of Multimodal Neuroimaging Techniques to Examine Age, Sex, and Alcohol-Related Changes in Brain Structure Through Adolescence and Young Adulthood
APA 2017
May 24, 2017
San Diego, CA
Adolf Pfefferbaum & Edith V. Sullivan
SRI International & Stanford University
» View Full Presentation (PDF)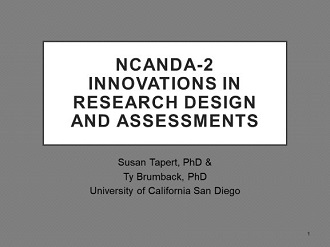 NCANDA-2 Innovations in Research Design and Assessments
APA 2017
May 24, 2017
San Diego, CA
Susan Tapert & Ty Brumback
UC San Diego
» View Full Presentation (PDF)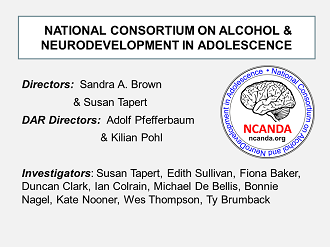 National Consortium on Alcohol and Neurodevelopment in Adolescence
APA 2017
May 24, 2017
San Diego, CA
Sandra A. Brown
UC San Diego
» View Full Presentation (PDF)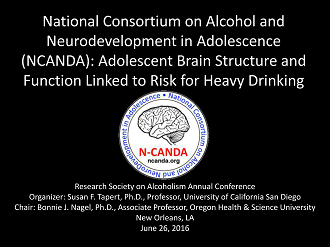 National Consortium on Alcohol and Neurodevelopment in Adolescence (NCANDA): Adolescent Brain Structure and Function Linked to Risk for Heavy Drinking
RSA 2016
June 26, 2016
New Orleans, LA
Bonnie Nagel
Oregon Health & Science University
» View Full Presentation (PDF)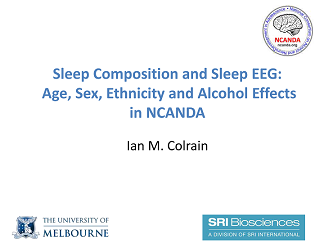 Sleep Composition and Sleep EEG: Age, Sex, Ethnicity and Alcohol Effects in NCANDA
RSA 2016
June 26, 2016
New Orleans, LA
Ian M. Colrain
SRI International
» View Full Presentation (PDF)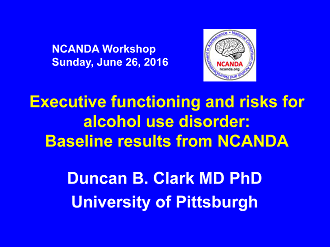 Executive functioning and risks for alcohol use disorder: Baseline results from NCANDA
RSA 2016
June 26, 2016
New Orleans, LA
Duncan B. Clark
University of Pittsburgh
» View Full Presentation (PDF)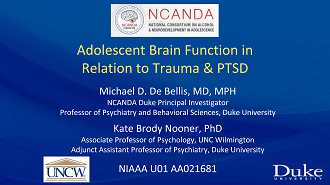 Adolescent Brain Function in Relation to Trauma and PTSD
RSA 2016
June 26, 2016
New Orleans, LA
Michael DeBellis and Kate Nooner
Duke University
» View Full Presentation (PDF)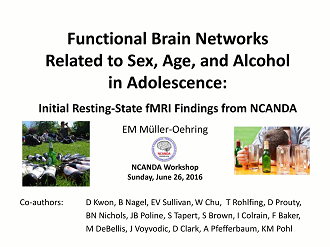 Functional Brain Networks Related to Sex, Age, and Alcohol in Adolescence: Initial Resting-State fMRI Findings from NCANDA
RSA 2016
June 26, 2016
New Orleans, LA
Eva M. Müller-Oehring
Stanford University
» View Full Presentation (PDF)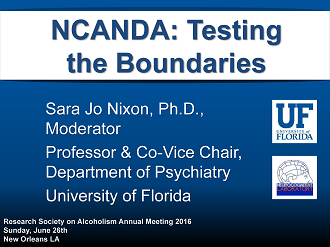 NCANDA: Testing the Boundaries
RSA 2016
June 26, 2016
New Orleans, LA
Sara J. Nixon
University of Florida
» View Full Presentation (PDF)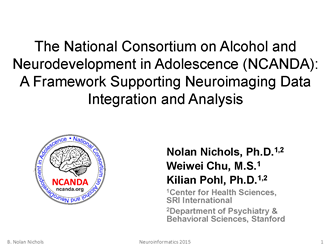 The National Consortium on Alcohol and Neurodevelopment in Adolescence (NCANDA): A Framework Supporting Neuroimaging Data Integration and Analysis
NEUROINFORMATICS 2015
August 20, 2015
Cairns, Australia
Nolan Nichols, WeiWei Chu, & Kilian Pohl
Stanford University & SRI International
» View Full Presentation (PDF)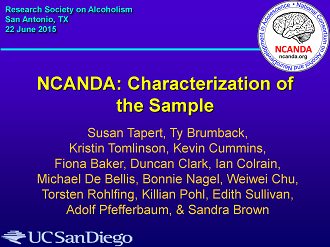 NCANDA: Characterization of the Sample
RSA 2015
June 22, 2015
San Antonio, Texas
Susan Tapert
UC San Diego
» View Full Presentation (PDF)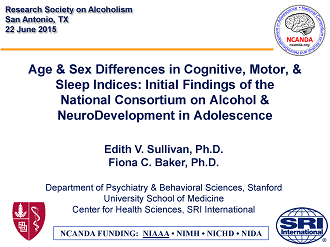 Age & Sex Differences in Cognitive, Motor, & Sleep Indices: Initial Findings of the National Consortium on Alcohol & NeuroDevelopment in Adolescence
RSA 2015
June 22, 2015
San Antonio, Texas
Edith Sullivan & Fiona Baker
Stanford University & SRI International
» View Full Presentation (PDF)
Differences in Adolescent Cortext Related to Age and Sex: Initial Findings from the National Consortium on Alcohol & NeuroDevelopment in Adolescence
RSA 2015
June 22, 2015
San Antonio, Texas
Adolf Pfefferbaum
Stanford University & SRI International
» View Full Presentation (PDF)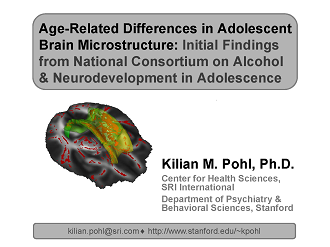 Age-Related Differences in Adolescent Brain Microstructures: Initial Findings from teh National Consortium on Alcohol & NeuroDevelopment in Adolescence
RSA 2015
June 22, 2015
San Antonio, Texas
Kilian M. Pohl
Stanford University & SRI International
» View Full Presentation (PDF)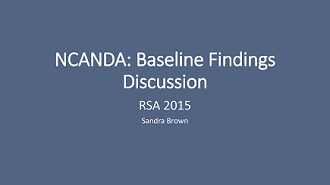 NCANDA: Baseline Findings Discussion
RSA 2015
June 22, 2015
San Antonio, Texas
Sandra A. Brown
UC San Diego
» View Full Presentation (PDF)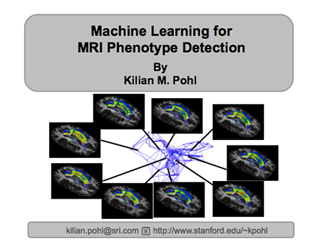 Machine Learning for MRI Phenotype Detection
RSA 2014
June 2014
Seattle Washington
Kilian Pohl, Ph.D.
SRI
» View Full Presentation (PDF)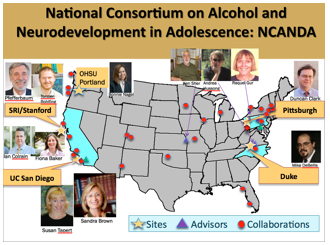 NCANDA Introduction Presentation
RSA 2013
June 24, 2013
Orlando Florida
Sandra Brown, Ph.D.
UC San Diego
» View Full Presentation (PDF)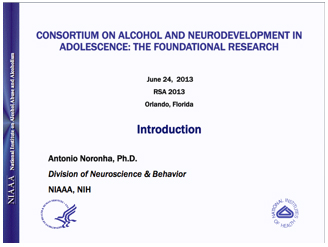 Consortium on Alcohol and Neurodevelopment in Adolescence: The Foundational Research
RSA 2013
June 24, 2013
Orlando Florida
Antonio Noronha, Ph.D.
Division of Neuroscience & Behavior
» View Full Presentation (PDF)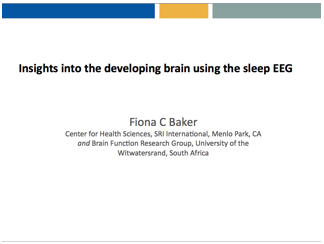 Insights into the developing brain using the sleep EEG
RSA 2013
June 24, 2013
Orlando Florida
Fiona C. Baker, Ph.D.
SRI International
» View Full Presentation (PDF)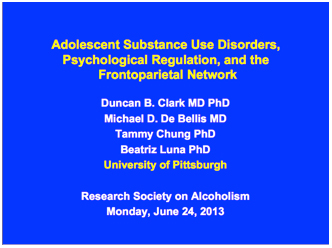 Adolescent Substance Use Disorders, Psychological Regulation, and the Frontoparietal Network
RSA 2013
June 24, 2013
Orlando Florida
Duncan Clark M.D. Ph.D.
University of Pittsburgh
» View Full Presentation (PDF)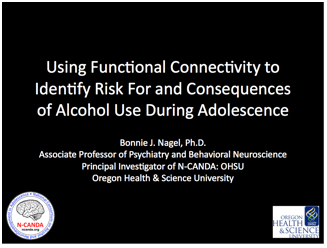 Using Functional Connectivity to Identify Risk For and Consequences of Alcohol Use During Adolescence
RSA 2013
June 24, 2013
Orlando Florida
Bonnie J. Nagel, Ph.D.
Oregon Health & Science University
» View Full Presentation (PDF)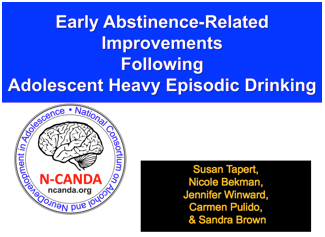 Early Abstinence-Related Improvements Following Adolescent Heavy Episodic Drinking
RSA 2013
June 24, 2013
Orlando Florida
Susan Tapert, Ph.D.
UC San Diego